Reporters are taught in journalism school to always be prepared and quickly adapt to an ever-changing environment.
When COVID-19 disrupted Realty411's four scheduled in-person expos across the country, resulting in tens of thousands of dollars in lost marketing dollars and revenue, the California-based office scrambled to rapidly adjust to a new era of networking.
Now, six months later, Realty411 is enjoying a record-number of RSVPs to their weekend online expos.
In fact, with only a one-week delay in event production, Realty411 has continued to reach thousands of people "live and in real-time", investors who are dedicated in continuing their knowledge of investing during this national economically-devastating pandemic.
For Realty411's Fall Virtual Investor Expo, being held VIRTUALLY on Saturday, September 12th and Sunday, September 13th, a "Who's Who"of REI will be spotlighted the entire weekend, beginning at 9 am till 6 pm PST.
Most of the educators participating for this expo have been in the industry, practicing their craft, for over a decade. With still weeks away, nearly 3,000 guests have registered for this "life-changing" online event, see below.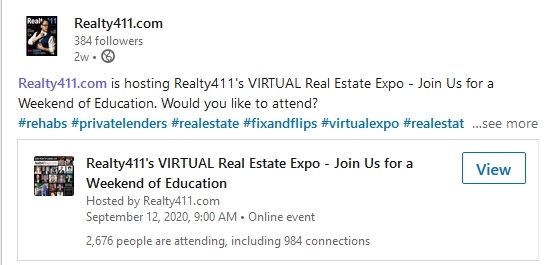 The educational bonanza will feature 16 educators, all discussing timely, important topics — insight that is deemed "a must" for today's educated investor to fully understand. To register for this expo, CLICK HERE.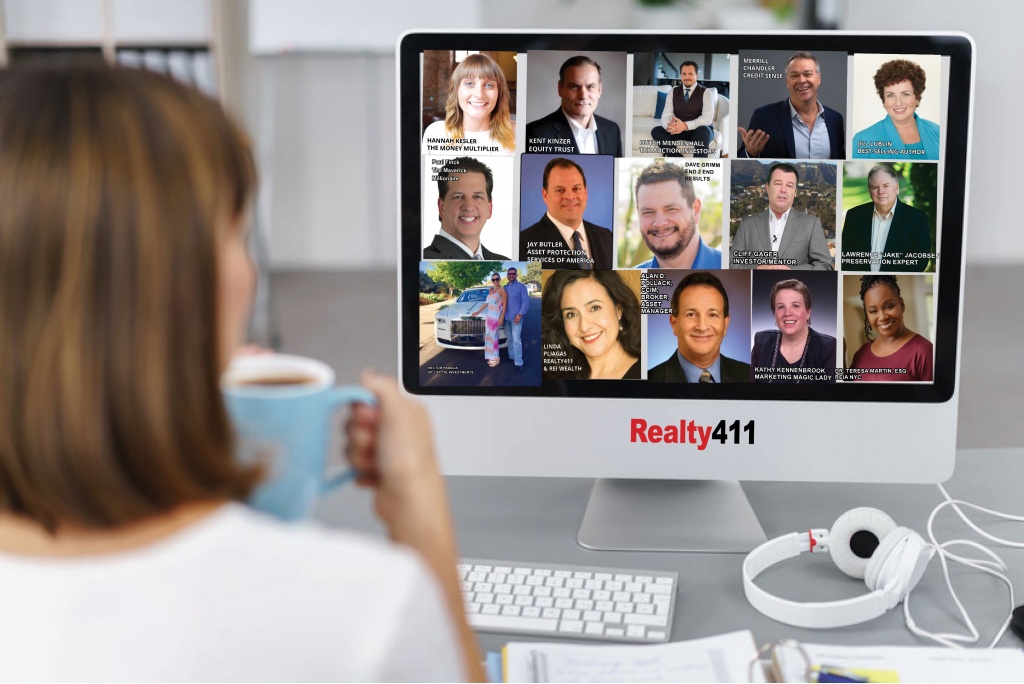 Some key issues that will be discussed, include: Finance and Leverage, Tax Liens, Asset Protection, Multifamily Growth, Single-Family Rentals, Vacation Home Ownership, Entrepreneurship, Multiple Streams of Income, Self-Directing Your Future, Lead Generation, Out-of-State Investing, Commercial Real Estate, Real Estate Marketing, Business Formations, Getting Fundable, Creative Cash Flow, Self-Directing IRAs, Growing Tax-Free Wealth, and So Much More.
Investors will have the opportunity to meet executives from leading companies, such as: Equity Trust, Credit Sense, HP Capital Investments, Inc., Delta Investment Group, Asset Protection Services of America, Tax Auction Investors, The Money Multiplier, REI Blade, REIA NYC, The Marketing Magic Lady, Private Investment Club, plus others.
These long-standing plus up-and-coming companies represent BILLIONS in real estate transactions. Don't miss the opportunity to learn and network with them. Live chat will be available, so guests can ask tough questions. To secure your ticket for this virtual REI extravaganza, CLICK HERE.
In fact, some of the confirmed educators scheduled for this amazing online event are leading experts in their respective fields:
Kent Kinzer, marketing director of Equity Trust, A family-owned, Ohio-based company, Equity Trust is an industry-leading custodian of alternative assets in tax-advantaged accounts. Their 45-year track record of excellence is unmatched in the industry;
Merrill Chandler, founder of Credit Sense, is a legend in the credit restoration industry who has led the transformation of the personal and business borrowing space. Learn how to get so fundable!
Dutch Mendenhall, founder of Tax Auction Investors, is a former professional athlete who now runs a company that mentors thousands of students across the country. Dutch's specialty is tax sales. He runs three investment funds that have amassed over $7 million in properties, and $3 million in profit over the last 12 months;
Hector Padilla, known as "The Chairman", this legendary rags-to-riches So Cal investor has personally closed over $90M in real estate. Hector has also invested well over $300,000 on his REI education over many years. He has been trained by some of the most respected "Masters of Real Estate" in the industry;
Alan D. Pollack, CCIM, president of Delta Investment Group, Inc., is a licensed California real estate broker since 2001, investor, author, panelist, syndicator, and RE mentor, best known nationally as "The1031Guy.com". His credits include the author of, "How to Cash In on Distressed Real Estate in a Down Market", "6 Steps to Real Estate Success", and will share his 3 Key Success Factors, to a reliable, repeatable, and predictable business practice. As the designer and host www.FindMeDealsNow.com, he will go live with the platform's internet scraping tool, to bring deal leads within minutes of the download, and even give away live deal leads to the participants;
Hannah Kesler, operations manager with The Money Multiplier, a family-owned business that teaches investors how they can start leveraging their purchases to build wealth faster. Hannah is passionate about sharing her family's knowledge to empower Millennials to take control of their financial future early on;
Jay Butler, is managing director of Asset Protection Services of America. He holds a Bachelor's Degree of Fine Arts (BFA) from Boston University. Jay builds his relationships through consistent attention to detail and reliable support. He has traveled extensively throughout the United States (having visited 49 of the 50 states), explored 36 nations worldwide, and has lived in a total of seven countries throughout North America, Central America, the Middle East, North Africa and Europe;
Dave Grimm, founder of End 2 End Results and other companies, he has helped raise tens of millions of dollars from national and accredited investor for many real estate syndication deals. Currently, he is focused on the science behind social media for company growth.
Seti Gersbherg, MBA, founder of REI Blade, will once again assist as an emcee at this expo. REI Blade is a revolutionary new software that helps private lenders focus on what they do best: Raise money.
Cliff Gager, veteran real estate expert, Cliff has been in the real estate business since 1992, starting in the residential mortgage lending world as a loan officer for a national mortgage company. Cliff teaches real world strategies that really work. Write down your toughest questions for Cliff — bring it on!
Kathy Kennenbrook, known as the "Marketing Magic Lady", she has developed a direct-mail system that drives in motivated sellers by the herds! Kathy holds a degree in accounting and co-authored the book, "Walking With the Wise Real Estate Investor", which also includes real experts Donald Trump, Suze Orman and Ron LeGrand.
Dr. Teresa Martin, Esq., director of the only official National REIA chapter in Manhattan, New York. Dr. Martin has helped thousands of personal investors, particularly women and people of color, gain the confidence and know-how to take charge of their finances.
Linda Pliagas, publisher of the longest and most-recognized real-estate media brands in the industry, Realty411 and REI Wealth, Linda is also an accredited investor and journalist. She has been on a mission to help investors since 2007 with the release of her first Realty411 issue.
The early-bird and most motivated of students will also receive "Achieve: Secrets from Successful Entrepreneurs", a complimentary e-book by Sunil Tulsiani, founder of Canada's largest REI group, Private Investment Club.
PLUS, MORE AMAZING EDUCATORS TO BE ANNOUNCED!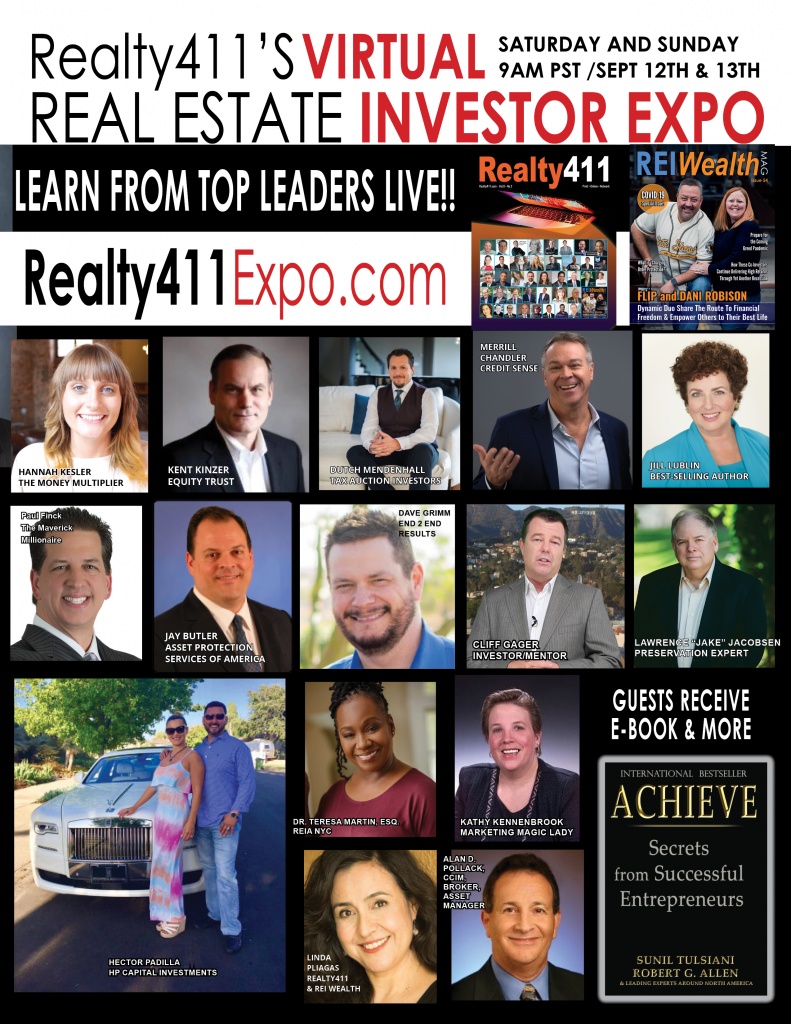 Don't miss the opportunity to ask these experts your real estate questions live and in real-time. It's the perfect place for virtual networking with national and international sophisticated investors.
We are uniting the Best of the Best for our readers like you. Be sure to take advantage of this amazing opportunity to learn complimentary and in the comfort of your home from successful investors, realty entrepreneurs, REIA leaders, best-selling authors — individuals who LOVE teaching, yet are still learning, and, most definitely, living in total financial freedom.
Individual investors who are interested in reserving a ticket to this online real estate weekend expo can CLICK HERE or:
Call: 805.693.1497 or Text: 310.994.1962 or email: info@realty411.com
The direct URL to register is:
https://us02web.zoom.us/webinar/register/WN_kLJaA7vOS5OjXxYxuCPWyQ
---
This article will be updated as needed, please check back for further updates.