Learn About Realty411's "Ladies Who ROCK Real Estate" VIRTUAL Summit on Saturday, June 26th, starting at 9 AM PT.
Investors and brokers don't miss a dynamic, exciting and interactive day with amazing women in real estate investing. Realty411's "Ladies Who ROCK Real Estate" Virtual Summit highlights savvy women in the realty business. These ladies are ready to share their secrets of success, plus take questions from our guests — all live and in real-time.
This is the place to learn real estate investing strategies that could catapult your portfolio and family's financial future for generations to come.
The ladies who rock real estate mean serious business this Saturday. In addition to the opportunity to connect directly with influential real estate leaders, additional special bonuses for guests who attend this summit include:
Special Raffles to Win Subscriptions to Our Print Magazines
Invitations to Our Private "Ladies Who Rock Real Estate" Online Group
Gentlemen Who Attend Are Invited to Our Private "VIP Investor" Group
EXCLUSIVE Insight About Real Estate Investing Not Found Anywhere Else
Learn from Decades of Direct Real Estate Experience Compacted into Short Segments for Maximum Learning
This is a No Holds Barred Event — The Ladies Will be Real and Raw, Let's Discuss What Investing is Really Like
It's easy to register for this Zoom event, simply click below our CLICK HERE to reserve your ticket: https://us02web.zoom.us/webinar/register/WN_W5y8aTmOSSSmeyD-ez9yHA
This one-day only virtual event is complimentary for all to attend thanks to the support of our sponsors. Normally, an online exclusive event of this caliber would cost attendees hundreds of dollars for admission.
Since Realty411's online summit will not be recorded, please plan to attend this life-changing event. The agenda is available below. Our sophisticated educators are ready to help attendees get to the next level of professional and personal success.
The "Ladies Who Rock Real Estate" VIRTUAL Summit is unique and special. Please help spread the word about this online event by inviting colleagues or team members.
— OUR AGENDA FOR THE DAY —
Ladies Who Rock Real Estate Virtual Conference, June 26th
DESIREE DOUBROX, CEO OF HOMWORK
TIME: Saturday, June 26th, 9:00 am to 9:15 am – PT
TOPIC: Welcome Message with Desiree Doubrox and Linda Pliagas
HANNAH KESLER, OPERATIONS MANAGER, THE MONEY MULTIPLIER
TIME: Saturday, June 26th, 9:15 am to 10:15 am – PT
TOPIC: Learn to Multiply Your Money Like the Wealthy Do – Discover How the 1% Increase Their Wealth, Effortlessly
TERESA GROBECKER, CEO, MBA, CRPC, REAL ESTATE AND MORTGAGE BROKER, INVESTMENT BANKER
TIME: Saturday, June 26th, 10:15 am to 11:00 am PT
TOPIC: What is Going on Behind the Scenes in the Real Estate Market? Plus, Forecast the Upcoming Residential and Commercial Sector for Success
LOLA LEVOY, OWNER AND PRESIDENT — BEVERLY HILLS ESCROW AND BEVERLY HILLS DEFERRED EXCHANGE
TIME: Saturday, June 26th, 11:00 am to Noon
TOPIC: Discover Secrets to a Flawless Escrow Process — Bonus: Learn the Mechanics Behind Successful 1031 Exchanges
ROBYN MANCELL – SENIOR EXECUTIVE, POWUR
TIME: Saturday, June 26th, 1:00 PM PT
TOPIC: Solar Energy is Disrupting the Real Estate Industry – Discover How to Capitalize on this Trend Today!
DESIREE DOUBROX, CEO OF HOMWORK
TIME: Saturday, June 26th, 2:00 PM – PT
TOPIC: Learn How the Work-at-Home Trend is Changing Business — And How You Can Capitalize on It
TINA D. LEWIS – FOUNDER, SIX-FIGURE INCOME INCUBATOR — THE BOTTOM-LINE QUEEN
TIME: Saturday, June 26th, 3:00 PM PT
TOPIC: Capitalize on the Travel Explosion in the Post-Pandemic Economy with Short-Term Rentals, Even if You Don't Own the Actual Property
STACEY JOHNSON-COSBY – FOUNDING MEMBER, NATIONAL HOUSING PROVIDERS COALITION
TIME: Saturday, June 26th, 4:00 PM PT TO 4:45 PM PT
TOPIC: The End of the Rental Moratorium and the Economic Impact on All Housing – Important Information to Know About Current Housing Policy Proposals
It's time to discover real estate investing from a female perspective. The ladies of real estate investing are here to help readers invest properly and wisely.
This virtual event will also be of special interest to real estate agents, brokers, lenders, realty service professionals and their staff. So be sure to pencil in Realty411's new "Ladies Who Rock Real Estate" VIRTUAL Summit on Saturday, June 26th, starting at 9 am.
This is a day one should not miss. For further details and background information about each individual speaker, please download the agenda, CLICK HERE or click this link: https://joom.ag/iZ0I or below.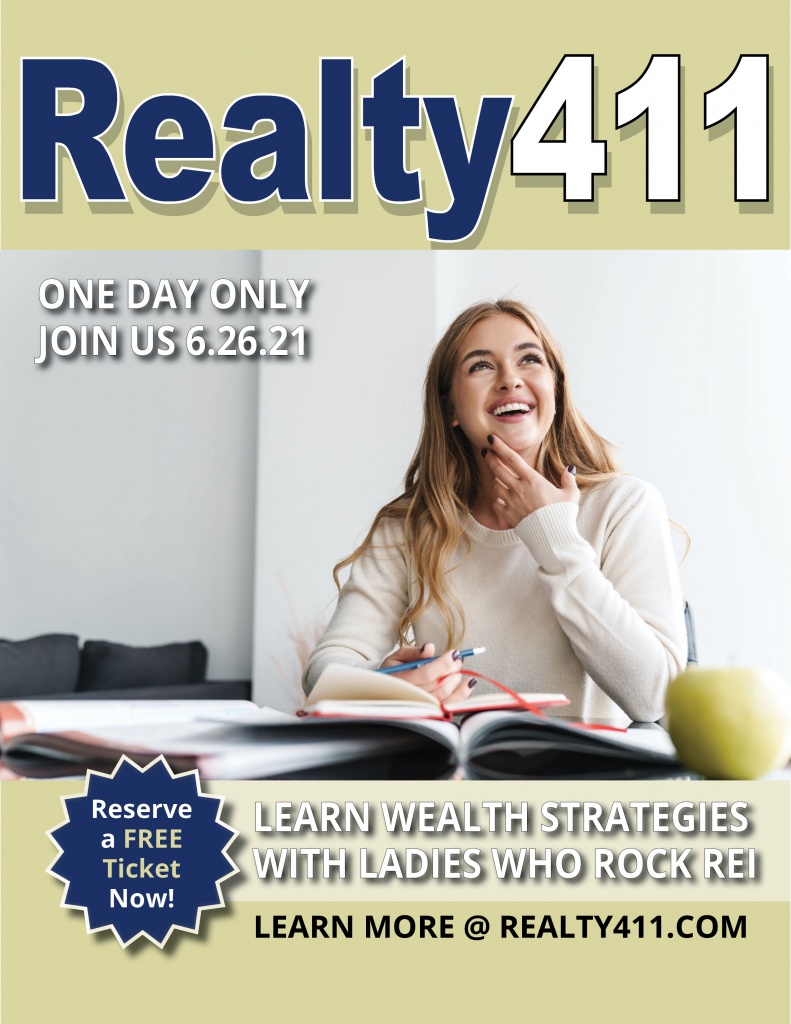 For questions, comments or to learn about becoming a speaker at a future Realty411 event, please contact us: 805.693.1497 or [email protected]